Accenture Digital Hackathon 2016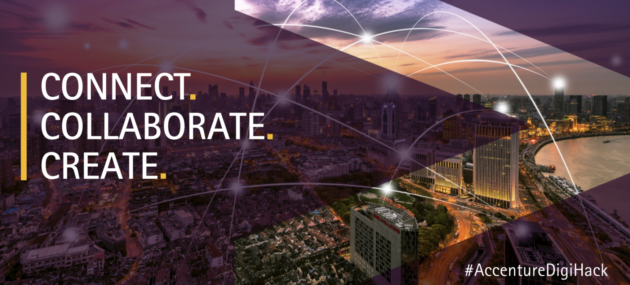 Last weekend I took part of Accenture's Digital Hackathon, a global event organised by Accenture (Duh!) in which more than 400 participants from 8 cities around the globe would try to think of and complete a project within 24 hours under the umbrella theme of "Connect. Collaborate. Create".
It was my first time at a hackathon and although it required a lot of energy and very little sleep, it was lots of fun and quite an experience with very interesting results from all the talented people who participated.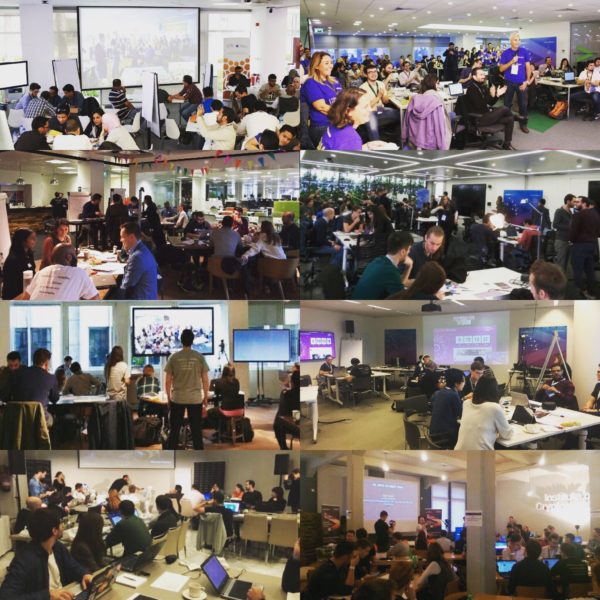 Each team was composed of a mix of designers, data analysts, developers and marketing specialists and were asked to come up with technological solutions that would tap on one of the 3 main proposed challenges:
Opportunity: Unlocking the potential within individuals and communities to shape the future.
Mobility: Eliminating the physical and technological barriers that inhibit the productive, safe, intelligent flow of goods, people and ideas.
Sustainability: Taking care to live in harmony with the resources our planet has to offer.
The team
We created Team Blanc together with Jonas Haslbeck, Jekaterina Kuznecova, Süha Boncukçu, and Kaiqi Dong, and we focused our efforts on figuring out how to better understand and manage the social impact of climate change.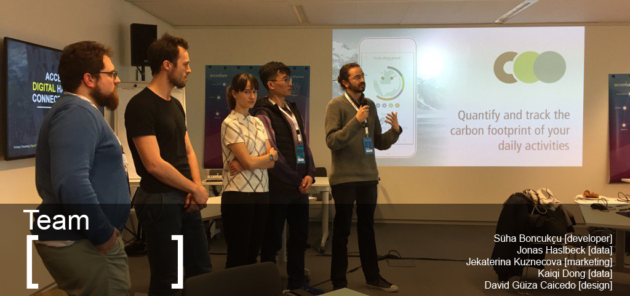 The project
We noticed that although a lot of us want to live more sustainable lives and we do our best with recycling and other commonly known sustainable practices, we mostly have very little insights into the impact that our day to day lifestyle has in terms of how much CO2 emissions are being produced.
Our research suggests that the main contributors to carbon emissions can be grouped into 4 categories:
Transportation: Type of transportation and frequency.
Food: From meat production and transportation of goods.
Home: Energy usage at home.
Stuff: The carbon footprints of miscellaneous products you buy.
The app
That's why we came up with COO, an app that allows you to quantify and track the carbon footprint that your day to day activities have. The idea behind it is similar to that of fitness trackers, which help you to quantify what you are doing daily in an effort to create a positive behavioural change.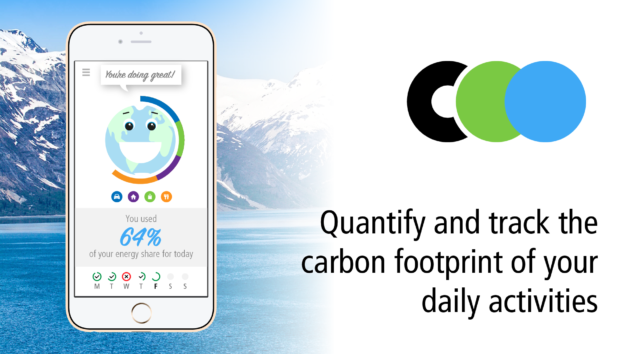 The app plays with the principle that each person on earth should have a maximum energy usage in order to remain sustainable. The home screen allows you to see how much of your daily maximum of energy you've used so far, with a visual representation of what type of activities were responsible for it.
It also allows you to see a daily, weekly or monthly breakdown of each individual activity that contributed to your footprint, giving you valuable insights on which activities have the biggest impact and which ones you could improve upon.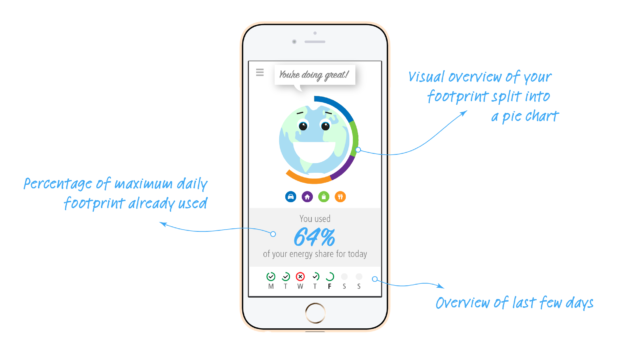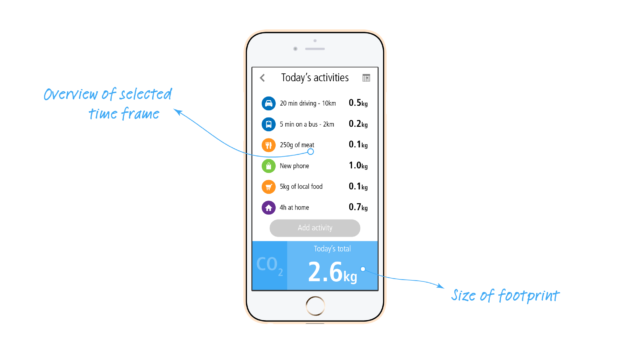 How it works
The app collects data through a combination of GPS tracking and self reporting, and uses it to calculate an estimate of the carbon footprint of your daily activities. It also provides you with tips and tricks for each type of activity based on your energy usage.
Transportation
By using your phone's sensors and tracking your position and speed, the app can automatically figure out what kind of transportation you are using daily and the length of each trip. It then translates this into an estimate of the carbon footprint that your daily movements have.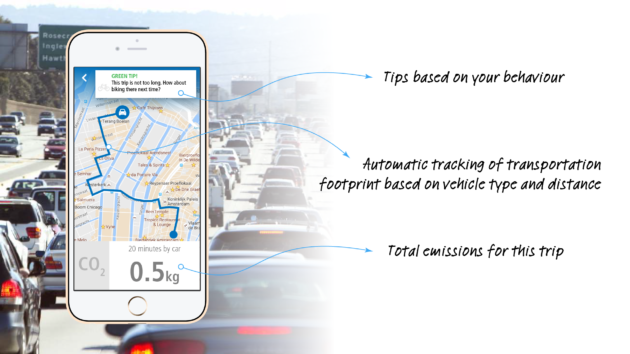 Food
Based on your location, the app can tell when you are at the supermarket or at a restaurant and ask you about your particular consumption (how much meat did you buy? How much of your products are locally produced?). You could also take a picture of your supermarket receipt and the app would use optical character recognition to automatically log this information.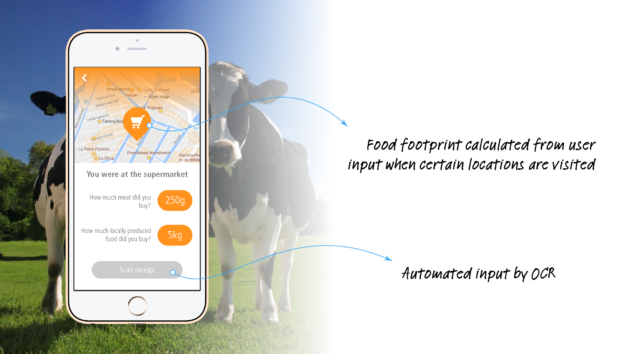 Home
Based on parameters that you input about your home (e.g. type of house, size, energy provider, etc.) and the amount of time you spend there (calculated from GPS location), the app can estimate your home energy usage and the carbon footprint associated to it.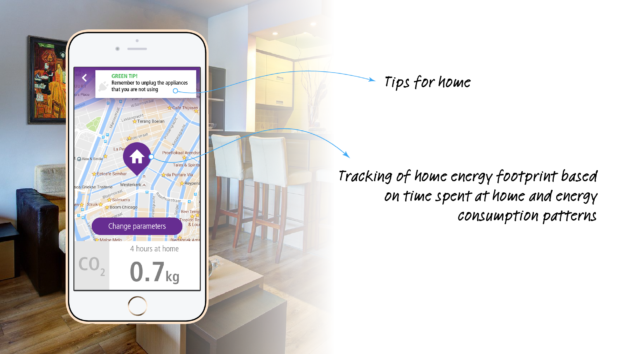 Stuff
When the app recognizes that you've visited shops, it will prompt you to input the type of goods that you bought, so that an estimate of the carbon footprint that went into their production and transportation can be calculated and added to your own footprint.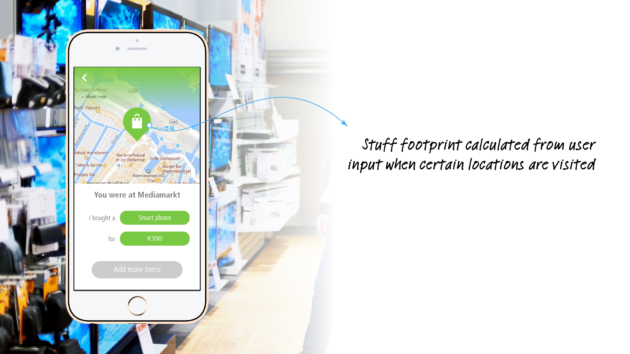 The winners
Unfortunately we did not win the event, but I was very happy to see my good friend Amine Rhord as part of the winning team with BiteIn, a chrome extension that helps people trying to learn a new language to practice their vocabulary by replacing words from their everyday internet browsing into the given language the user is learning. It's a very simple but powerful way to keep practicing your newly acquired vocabulary without needing to open a separate app for it.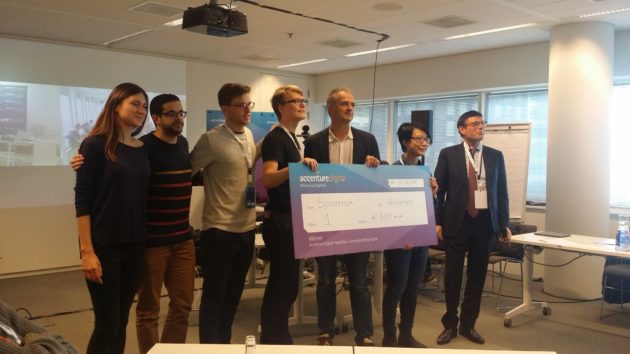 #Savannah #accenturedigihack #BiteIn Demo pic.twitter.com/GjTnqLKyYj

— Savannah (@BiteInLanguage) November 27, 2016